Never say never, but I can not see any circumstance right now which would lead to anything other than a picture-perfect postcard race.
I'll go right out and say it here: there is about as close to a 100% chance that the Birkie will go off on February 22 (and the Korteloppet the day before) as there ever has been.
This is not, however, for atmospheric lack of trying. Much of this decade, winter has been dominated by the (scare voice) polar vortex. As the polar jet stream as weakened, cold air has spilled south to send frigid air to Birkieland and nearby. Some years have stayed cold the whole way through (2014). Some have been variable. Last year January was quite warm overall, even if the second half of the month saw several days staying well below zero. January of 2017 had seven days in Hayward with a high below 10, and this January that happened just once. This year was warmer, overall, than 2017. Yet the highest recorded temperature in January in Hayward this year was just 34, while in 2017 there was a week straight with highs above 38, and several days in the 40s.
In fact, since 1998 (before which there is a gap in record keeping in Hayward), there has been only one other year when the temperature in Hayward has stayed below 35: 2011. Despite being warmer than all but three years of the past 23, January this year stayed just cool enough to keep the snow around. Sure, it reached 34 four days in a row. But 34 doesn't really melt snow. (Yes, I know, it it 45 earlier this week. But the snow is surviving.)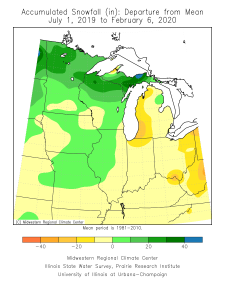 This year has had a zonal flow, with modified Pacific air predominating with only small blasts of arctic cold. It hasn't been particularly wet, but there's no snow drought, either. The snow fell early in Birkieland, and it's stayed around. Here's a map of snowfall in the Midwest. See that little dot in the middle of Northern Wisconsin? That's the Birkie. (Interesting to note, the Keewenaw has seen less snowfall than normal, but the eastern UP a lot more.
So the Birkie has a foot-plus of packed base. What does the next week hold in store? All signs point to more of the same.
More of the same is good. The American model out to the Birkie shows it staying colder than it's been, with a few days dipping below zero. The European model is a bit warmer, but still keeps Hayward below freezing. Both are reasonably dry. But that means a fast, transformed, set up course, not one the Birkie has to plow with Pisten Bullies the day before the race.
This is definitely something we can get behind!
Weather for race day? Who knows! It's two weeks out: we can deduce some trends, and make educated guesses. But as usual, the start pen temperature at this point should be somewhere between -15 and 45. 15 above is a pretty good guess. But don't start panic waxing too quick.