Name: Ari Ofsevit, Cambridge, Mass.
Event: Birkie Skate, 2:40
BirkieGuide.com affiliation: founder, copywriter, coder, editor, et ceterator.
Time ahead of 200th place (Elite Wave qualification): 2:13.9
Time ahead of 200th last year: 0:02.6
It was a good Birkie.
I am generally guilty of saying this—in past, present or future tense—at some point during Birkie weekend. But this year's race was perhaps the best one for me of the eight I've skied. It was my best finish (by place), it had particularly good conditions, it wasn't mind-numbingly and frost-bitingly cold, and I even had the chance to go and play in the woods the day after the race.
I. Travel
The weekend started with an uneventful flight out on Thursday evening and only a slight gaffe when I left my boot bag at the baggage carousel and had to go sprinting through the airport to retrieve it before driving away in the rental car (but—sprints!). I settled in at a friend's house in Saint Paul with some enchiladas (feed) and we reprised a 2008 tradition of watching a tape of the election results on Fox News, for comedy. I eagerly went to sleep—they say that the night before the night before the race is the most important—and slept soundly for eight hours with only one "dehydration and rehydration break".
Friday morning I peeked out the window. I knew I had just beaten a light snowfall in to town, but the flakes were cascading down outside. I had to repeatedly tell myself "tomorrow is the Birkie and you're skiing in Hayward, don't go play in the snow" to keep myself from getting in the car and driving to Battle Creek or Wirth or—because I am a masochist—Murphy Hanrahan and tiring myself out before the race. I was to pick up a friend (and certified Good Skier, ski orienteering national champion and City of Lakes Loppet winner Ali Crocker) at MSP and bided my time in Saint Paul watching the snow fall as her plane slowly made its way across the tarmac in Detroit (she lives in Toledo, as in "Holy Toledo! Some girl from Ohio got 7th place!").
(By the way, there's not going to be as much suspense in this race report as in past years, as you might be able to tell.)
The drive from the airport was a little slow with some snow, and we even saw the elusive snow plow (snowus plowus, a common species in Massachusetts but rare in its native Minnesota) going the other direction. The snow had mostly tapered and we were only slightly delayed on our way to bib pick-up in Hayward. We were further delayed there by arriving at the peak hour for bibs standing in lines which snaked through the middle school, and we made our way to Mosquito Brook for the requisite pre-Birkie ski.
II. Pre-Race
Ali has never skied the Birkie, or the Birkie Trail, so she got an earful on the way up about all the hills. We previewed the most important part of the trail, where the hills begin again in earnest at 38k, starting at a ski orienteer cabin near the trail. The groomers were in the process of packing the trail as Hayward had received better than half a foot of light, fluffy snow. On the side trails to get to the Birkie Trail we were skiing through this ungroomed, but it was so soft that you didn't have to lift your skis above the snow when skating, but could instead just move them back and forth through the powder.
We were on rock skis and mine are particularly slow, as they are harder track skis and in desperate need of a stone grind. Or wax. We had a race down a hill at one point to see whose skis were slower. I won, I guess. I was excited to step in to cold-grind, soft-snow skis the next morning, as I was not about to win the race on these non-rockets.
Ali was slated to stay with another certified Good Skier, current and former Birkie champ Caitlin Gregg. However, as often happens in Birkieland, plans were thwarted by communication issues, especially the lack of cell reception north of Hayward. I was staying in the same digs as last year—at Jakob's friend's Chris's girlfriend's cabin in Trego. I'd offered Ali accommodation a while back and there was plenty of room, so when she couldn't get in touch with the Greggs, she came to stay with a friend of a friend of a friend of a friend. Typical Birkie lodging.
This was the first time in five years I've stayed in the same place the night before the race as the year before, having spent the past years before with Crandalls, Van Ettens, a friend of Collin Cousins near Telemark and a Telemark Condo. It might be further from the start than some of those options, but continuity is nice. We made pasta, waxed skis, prepped for the race (laying out clothes, setting alarm clocks, laughing and carrying on) and retired for the evening.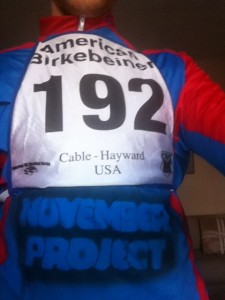 The next morning was relatively sane. It was 20 degrees and not expected to rise, so we didn't need to pad on dozens of layers (I had two on the bottom and three on top and was just about right). My November Project Grassroots Gear race suit was, well, let me explain that, actually. Two Novembers ago, a couple of moderately sane rowers started running stairs at Harvard Stadium on Wednesday mornings at 6:30. Last spring, they invited the public, Tweeted like mad, and I started joining them on days when I could get my rear out of bed at 5:50 with a few dozen hardy souls. They added hill workouts on Friday mornings (a 2:45-3:15 climb of Summit Hill in Brookline, which is a 200 foot climb) and strength on Mondays (which, uh, I've never been to, but my New Year's resolution—I'm celebrating New Year's on Birkie day now—is to get strong) and now have 200 or 300 people show up.
That's right, at 6:30 in the morning, hundreds of people run stairs and hills. They had a race a few weeks ago along the Charles, and in the spirit of being crazy ran it at 9:15 p.m., had a stop for strength (Burpees) halfway and happened to schedule it on the coldest day of the winter in Boston—9 and windy, so a balmy night in Duluth. It was awesome, and I ran 6:30s and was happy with myself.
Anyway, the whole November Project concept is of no cost, so instead of making t-shirts the founders—one of whom, Brogan, is from Madison—have stencils and spray paint and will create "grassroots gear" for any article of clothing you bring them. Like a race suit. So on Wednesday, I brought my old Macalester race top—which I'd put on with a bib over it the night before to make sure it wouldn't cover the NP logo—to Harvard Stadium and got sprayed up. And then I got a little worried about FIS regulations, tweeted about such #EliteWaveProblems, and realized that this would only really be a problem if I finished in the top six, which I wasn't planning to do.
Where was I? Oh, yes, grassroots gear, clothing, 20 degrees. So the snow was going to be soft since it had stayed cloudy overnight, but the temperature wasn't going to change dramatically (as it does some years), so what I was comfortable in at the start was probably good for the race. The trip to Hayward was uneventful (no passing of 12 cars in a row) and the bus trip to Telemark was as well (no Birkie Fever for Jakob) and I went and took a warm-up jog down McNaught Road instead of skiing the circles around the grassy warm-up track with everyone else. I went off running (and stopping every so often to empty my bladder—hydration!), cut over to the trail and walked out on the snow. It was pristine. Thin powder over a relatively compact base. It wasn't going to hold for the whole race, but probably would be okay for the 200 skiers—or so—who'd traverse it ahead of me.
I went back to the start, changed in to boots, realized it was too warm for a hat and that I'd forgotten my buff. But I was wearing an underlayer with a hood! That would suffice, and I wound up taking it off after a few kilometers anyway. I stuffed my backpack in a Birkie Bag (yes, they're big), threw it at the truck and jumped in to the start pen, ready and raring. Jakob started nearby and asked how my skis were. "Oh, I went running." Then I realized: my upper body was about to cramp. Yeah, this guy realized his arms weren't warmed up at all. Good call!
III: BIRKIE
The start was uneventful and the rub-on fluoros made my skis fast so I went pretty well along the mini power lines. I turned the corner at the Power Lines and went up the less-skied-in outside of the trail, gaining a few places as my soft skis had no trouble in the slightly softer snow. I crested the first of the hills and felt pretty good going up to the drummers at the top of the hill and through the first feed.
Jakob and I had made up our feed bottles the night before. We didn't use much whiskey because it was in the 20s, but added a nip, for awesomeness. More importantly, we made the discovery that maple syrup in your feed bottle is awesome. So we had Gatorade, maple syrup and whiskey. I took some tasteless HEED at the first few feed stations; when they come every 4k there's no reason to go for your own water bottle. And while I have badmouthed heed before, this year it tasted slightly better (well, less worse) and I got some down.
I skied with a big pack going in towards 9k—probably on the order of 30 skiers—and was skiing above my number. Of course, I was number 199, having made the Elite Wave by two seconds last year, so that wasn't a feat. I was at the back of the pack and not feeling particularly good on the next few hills, fighting through some upper body cramping. It was almost as if I hadn't warmed up my arms at all! I dropped off the back of this pack, making sure not to blow up completely in the beginning of the race.
The sledders had not even started their fire at Bobblehead Hill as we glided towards the Firetower. I felt okay going up that climb but started feeling a little sick at the top. (If you don't want to read a moderately disgusting bit about precious bodily fluids, skip down to the next paragraph now.) I've had an annoying thing for the past few years where, at some point during runs and skis, I get some phlegm stuck in my throat, try to clear it, choke on it, and then dry heave. Yum! I think it might have something to do with going hard (but not always) or not having eaten or drunk enough or too much—basically I have no idea. The first time it happened was during the Seeley Classic, just past the northern turn-around on the Birkie Trail in 2010. That time I had to pull off the trail and recompose myself, but I've gotten better at coping with it in the past few years. Well, this time it happened in the same place on the trail, just past the feed. I lost contact with a small pack and skied on my own for a couple kilometers before the episode had passed and I was skiing well again.
This group I found was good for me, with about five guys, two of whom had purple bibs. I'm pretty close to being a master myself, so I have to try to fit in. I went through the hill at Boedecker and in to a right-side V1. After years and years of practice, my weak-side V1 on the right is both getting stronger and less awkward as I've practiced transitioning in and out of it. I still default to the left, but I can switch on the fly and sometimes even go to right-side to give my body a change of scenery.
I grabbed my first self-feed somewhere here and it was revelatory. The whiskey might not have been necessary to keep it liquid today, but it was overpowered by the syrup. In a good way. Usually, when I take a self feed, I'm just trying to choke down calories and liquid. With this, it tasted good! I wanted to drink it! Then I felt sick for about thirty seconds—the whiskey. Then I felt really good for about five minutes. The syrup. Jakob and I really should market this.
Anyway, going through OO was fun with the crowds and uneventful, as were the next 15 kilometers to Mosquito Brook. I was feeding, handing off leads with this pack as it dwindled from five to four to three, enjoying the snow-dusted trees every now and again, and getting ready for the hills. We came through Mosquito Brook and I said to the Green Bay suit next to me, "well that was fun, now it gets hard." Our little pack churned apart, with him jumping out ahead of me up the 38k grinder and the guy behind me falling off. So I was all alone.
Once the striders came alongside, it was clear that it would not be a record fast year for the skaters. On uphills, the striders were passing us, as the tracks—at least for the first few skiers—were far more solid than the skate lanes. We had an only-slight advantage on flats and on downhills we'd jump in the tracks if they were convenient. I didn't wear a watch, and while portions seemed fast, there were times my skis felt a little draggy in the powder.
I came in to Bitch Hill glided the first pitch and then started counting. The night before, as I climbed up, I counted that it was slightly fewer than 50 V1 strides (it's an 18% grade, according to Strava). I figured that with the whole being tired thing, it would be just about 50 strides to the top. In other words, "I Got 99 Problems but Bitch Hill Ain't One." So I put my head down, thought about fluid technique, and started counting. I can do 50 of anything, right? When I got to 50, I crested the top, and was able to muster a poor excuse for a V2 until the trail finally dropped away for the descent towards Fish Hatchery.
I have familiarized myself with this stretch of trail quite well in recent years, and knew that I had the bump, the lump and the hump—or the three little pigs—upcoming. (There's a fourth pitch, but it's barely worth mentioning.) I knew each would be steep but short, and kept my momentum up through them. Then it was down across 77—no thank you on the feed, I have maple elixir—and up the last bear of a climb. I passed a couple guys who were struggling up the hill, took the next little bumps and then shot down in towards town.
I got passed by the first Wave 1 skier—Connecticuter and frequent Weston Tuesday Night Worlds winner Matt Weier—and couldn't muster the energy to stay with him. But when a second one came up from behind a couple minutes later, I was ready. I tucked in behind him, and even though there wasn't much wind on the lake I got a nice ride across. We passed at least one Elite easily, and I let him go as we came in to town and mustered some sort of sprint as we shot up Main Street. Where I came up with my second aphorism for the day (99 Problems being the first):
Lake Hayward is flat, but it's uphill.
Main Street is uphill, but it's flat.
The crowd propelled me in, as it always does and I crossed the line and queued in for my finishing pin. I was in a Goldilocks situation for clothing: not too cold, not too hot, but just right. There were no volunteers taking our chips this year because the Birkie moved to disposable in-bib chips (RFID has gotten cheaper, apparently), but one fellow told me it was just about 11:00. The Birkie really needs a big clock just beyond the finish line to look at once you can stand up and open your eyes. As I went to get my bag, I checked out the finishers. Lots of three-digit bibs. Not many longer ones. I felt pretty confident in maintaining my Elite Wave status.
IV. Post-race
I went to the changing tent, stripped off the wet and put on the dry, searched for and finally found my dry lobster gloves, and ate some M&Ms. I then went looking for the results. Nothing online (finishing skiers had not yet overwhelmed the Hayward cell network). Nothing posted. Even the receipt system was down. So much for the new technology.
I found Jakob, who had a good race (gaining more than 400 places on his finish from last year) and Ali, who had a really good race, proving she belonged in the Elite Wave (they hadn't upgraded her until she won the City of Lakes), skiing with the lead pack most of the way and finishing in 7th, 24 seconds out of the money. Did I mention that she lives in Toledo? That she drives an hour twice a week to ski a little circle of snow in Ann Arbor? That she hasn't seen a hill in months? Yes, all of those things. Wow. Alex wasn't overjoyed with her finish of 22nd, but Alex is still a very good skier. And they're both going to kick butt in Kazakhstan.
As for me, when the receipts came out, I got mine. 177th. That's my best finish ever by place, and is far enough in to the Elite Wave that even if some Wave 1 skiers came in later I'd still be protected. By time, it was very slow. 2:40. 13 minutes slower than last year, 17 minutes slower than the year before. We got warm and went out to celebrate on the lake with other skiers (like the lovely Sarah Van Etten, who came from New York City to ski the Korteloppet). I saw people with split receipts and went to get mine—and others— to look at splits on the lake.
Sarah and I took a picture to send to Collin in Philly, a sort of wish-you-were-here thing. Oh, and Alex and Ali are about to set off to Ski World Orienteering Championships which are in Kazakhstan where—coincidentally—Sarah was in the Peace Corps. So Sarah gave them some travel tips and useful phrases, and we made our way, via the wall of New Glarus in the Marketplace, to the lake.
I glanced at my receipt. My splits looked good, I'd definitely gained places in the last few miles (where I'd been passing people). Then I looked at the top line result: 205th. Uh oh. I was 182nd at Mosquito Brook, and somehow lost 23 places in the last 12k, even though I felt good and passed some people? This didn't add up. For a couple of reasons. First of all, the computers kept crashing. Second of all, I compared my two receipts. In both, I was 49th in my age class. In one, however, I was 177th overall and in another I was 205th. So I'd somehow lost 28 places—more, actually, since I passed people—but that no one in that category was 25 to 29? The most competitive age class? The age class with 49 of the first 177 (or maybe 205) skiers?
I didn't have a statistician with me, but let's play a quick game. Let's say you have 200 M&Ms, 50 of them yellow and the rest blue. (I still miss light brown.) Oh, and as a matter of fact, I did have 200 M&Ms in my bag! Burp. Anyway, what are the chances that if you pick 28 out of this bag, none will be yellow? It's approximately 0.7528, which 1 in 3000. But it's actually less than that because after picking 28 blue M&Ms iterations, you still have 50 yellow ones, but the total is only 172, so yellow M&Ms are now 29% of the bag. (You are eating the M&Ms, obviously, as you just skied the Birkie.) This reduces the chances to 1 in 6000.
So there was a chance that the results were right, but it was small. And there was a chance that things were messed up. So I had hope.
We cheered on some skiers on the lake, and everyone knew someone. We yelled at CSU. We yelled at Sarah's dad. We yelled at Jess Marion who was killing it and winning the 9th wave females (I think) finishing in about 3:10, a feat from the 9th wave! I ran along Jess, telling her to finish strong and push it in, and after a beer and a fraction my heart was pounding up in to my head. Birkie Fever! Then it was time to get off the lake. I got a brat (yum) and met Ali at the car for the next leg of our adventure.
V: Ski-O!
About three weeks ago, I had a realization. The north end of the Birkie Trail has and outstandingly dense network of winding ski trails. And really interesting kettle-moraine topology. And an orienteering map. I sent some emails. "Hey, Ali and Alex [a.k.a. Team Giggles], would you be interested in a post-Birkie Ski-o?" Yes. "Hey, Minnesota Orienteerers, would you be interested and share your map? Yes, and yes. "Hey, North End Ski Club, is it cool if we show up and do this?" Yes. I'd contacted most of the competitive ski orienteering community in the country (seriously) so we were good to go.
Okay, then. Ali had won the Ski-O at the City of Lakes Loppet, which was new this year. All the Ski WOC travelers were excited about the idea of getting some pre-trip training in. It would be nothing official, but we'd put together a course to some features and have people ski. We'd gathered the maps the day before and I wanted to go check their veracity. I started up from the North End Cabin and saw a trail. It wasn't on my map. I drew it in. Then I found another trail. It too wasn't on my map. Nor was the Birkie classic trail. The terrain was right, the trails were skiable (skied in powder over a firm base—there was two feet of powder in the woods), but we had a problem. A good problem to have: too many trails!
In the mean time, I checked my phone. I was 188th. Okay, then.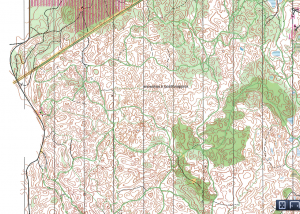 Ali slept by the wood stove and I skied a very slow 7k making notes on the map. We grabbed a trail map and went to the Ideal Eatery in Cable for pizza. I don't want to give away the secret for next year, but if you go at 4 there's no line, and it's just about when you want a pizza. And they make a good pie. I drew in, as best I could, the trails we were missing and we then headed south to Trego for second dinner.
Dinner was broasted chicken, from the Trego Dinner Bell which I'd seen often but never eaten at. Apparently in Northern Wisconsin, "broasted" means fried. Yum, fat and salt. I told Ali she wouldn't get the full experience unless we drove to Seeley for the party at the Sawmill, and while we left before it got too crazy, I think she got a taste. She'll party harder next year when she's not flying quite literally halfway around the world in three day's time.
We came back and flopped in to bed with a wake-up call the next morning for Ski-O! We were out by 7:30, picked up Alex, and went to distribute maps. I had a "master" copy with my scribbles, and everyone copied off of it. It was a make-your-own-course day, so we all skied around with maps looking at features and terrain. It's a great place to orienteer, lots of minor features, lots of terrain, and if you don't know the trails that well (like, ahem, me) you actually use a compass and read the terrain, which is not that frequent in Ski-O.
VI: Homeward bound
Alex got a ride down with us and we left around 10:30, plotting how we were going to have a real Ski-O at the Birkie next year. Such fun trails! Such great terrain. The opportunity to use marshes, clear areas and classic trails to set narrow trails and mazes. Several people had talked to us on the course and at the cabin about Ski-O, and there seems to be a genuine interest. Where else do you have 10,000 Nordic skiers in one place to introduce them to a new version of their sport? The Birkie has a ton of extra events, with kids races, and skijoring, and sprints, and a big ski race and all else, so why not a Ski-O?
We were on such a roll talking that we flew through Hayward and forgot to pick up Ali's age class award. The top six skiers win money (6th place gets $1000) so they aren't eligible for age awards, so Ali automatically won one. Hopefully she'll get it, whatever it is. And hopefully someone will give her skis since she's really, really good (Alex is already sponsored). Lunch options were either Subway in Grantsburg or the Nook. We had just enough time to get to the Nook, and Alex doesn't like sandwiches, so the Nook it was. I was talking up the cheese curds and burgers and other fried goodness and of course it did not disappoint.
We sat downstairs, were served quickly, and then I dropped Team Giggles at the airport. I was then off to see new things. Callie and Roscoe and their new baby, Alba. (Roscoe's brother Blaise is listed in 27th place. I mentioned this to Jakob and he said: "Oh yeah that's wrong, I beat Blaise." So the results are still changing—I've now gone from 177 to 206 to 182 to 168 to 169.) Phil and Mel and their new dog. University Avenue and it's—wow, new overhead catenary! Then Aaron and I went bowling, and I'll blame the beer and my arm being tired from skiing although I did manage to win a game and break 100 three out of four. Then Green Mill. Then bed.
Although not before I watched Jessie Diggins and Kikkan Randall kick butt (with German commentary!) and win gold. And not before I took an hour to look at Birkie pictures (including one of me, so far). And despite four hours of sleep, I'll stand by my original assertion. It was a good Birkie.