I'm parsing results. I'll have a lot more information shortly, and I'll have a race report coming, and stats and all. But here's the deal. This year I felt pretty good, and finished 20.96% back from the finisher. Last year, I finished 22.67% back. This year, I squeaked in to the Elite Wave by less than two seconds, in 200th place exactly! Last year, I was in 192nd. And if I'd finished last year in the same percent back as this year, I would have been in 172nd.
The Elite Wave was competitive this year, especially the slower half of it. Last year, there were 57 Elite qualifiers from other waves. 54 from Wave 1 and three from Wave 2. This year, there were just 29: 27 from Wave 1, and one each from Waves 2 and 5. Yes, 5. And last year, there were 180 Elite Wave starters. This year, by my count, there were 211. I didn't get passed by any Wave 1 skiers (which I did last year), I finished in front of more women, and I placed lower.
Here's a chart!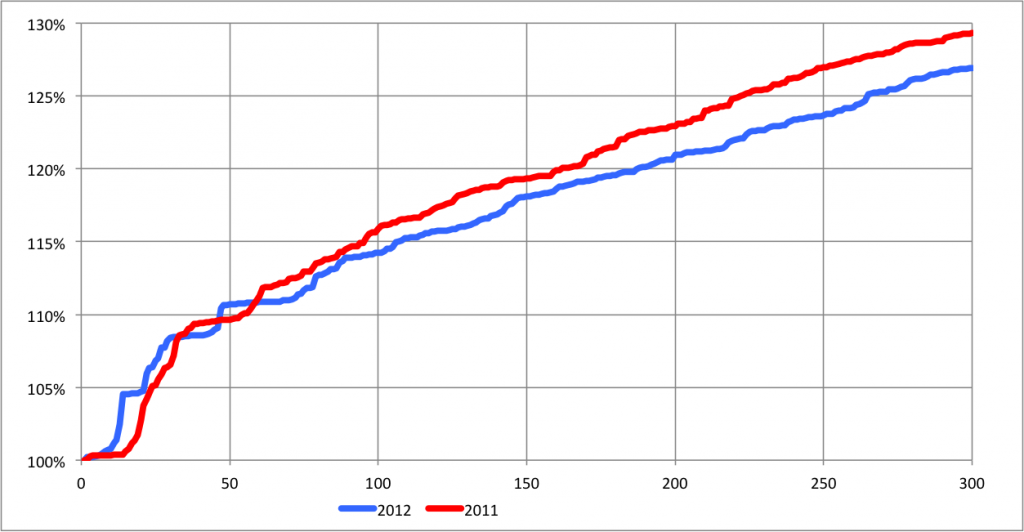 What does this show us? It shows, for the top 300 places, the percent back in 2011 and 2012. For the first 100 finishers or so, there wasn't much different between the years. However, from 100 to 200, any given place in 2012 was significantly faster than in 2011. Take, for instance, 137th place. In 2012, this finisher was 16.6% back from the winner. In 2011, the finisher was 18.75% back. In 2011, 16.6% back would have been good 111th place—26 places better.
Let's look at 200th place—the last Elite Wave qualifier (that's me!). This year, I finished 20.96% back. Last year, in 192nd place, I was 22.67% back and the 200th finisher was 22.95% back. And if I'd finished 20.96% back in 2011, I would have been in 172nd place, 28 spots better.
So I got lucky but I guess I kind of had a decent race. And I better train better this summer. I'm tired of being right on the cusp.