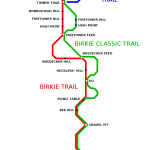 Ever wondered what the Birkie Trail would look like if it were a subway map?
Well, I have a rough approximation here.
Now, it's time to go skiing.
[update 3/7] I am planning a more stylized version of this map which even further from a geographic view. Plus some other enhancements. I'll put those on the stylized map page linked above.