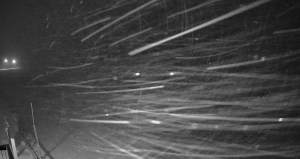 If you look at a Birkie webcam screen grab right now you'd see it dumping snow. And it is! A heavier-than-expected band of snow set up across Northern Wisconsin today and what was looking like a dusting has turned into an inch, or maybe even two. It's coming down starting in the upper 20s, and will finish a bit cooler and powderier, and temperatures fall tonight, plateau tomorrow, and then fall again tomorrow night (if the winds let up with fresh snow cover, -20 is not out of the question).
What does this mean? Probably not that much. This snow will be worked into the Birkie's existing base by means of a lot of tilling, most likely, and will probably slightly slow conditions for the race. If you were on the edge between softer and harder skis, the softer skis may win the day, but the Birkie will probably do a lot of work to make sure that the base is solid by race day. And while it does look like Saturday will get above freezing, Friday may not as the models have backed away from temperatures cracking 30 until midday on Saturday, so except for south facing hills on the second half of the course, what is on the trail later this evening is probably what the race will be skied on.
Which is not bad. Because it may well be the best race conditions since 2010. Ski conditions and race conditions are not exactly the same thing. What I might like to ski on—some nice fresh powder clinging to the trees as I softly glide through the woods—is different than what I want to race on. For a race, I want a cold, hard-packed base, with a mixture of powder and older, transformed snow which will all freeze together to be fast and fun. And that looks like what we are going to get. No complaints from this skier!