Greetings!
It's February, I've bought my plane ticket to the Birkie (you can even save a couple bucks using the Delta meeting code NMJDQ, see here), and there's some snow on the Birkie Trail. Not feet, like last year, but enough. So things are looking okay for the race, which is barely more than two weeks away!
So, it's time for some good weather speculation. Which might be paltry this year. In the past few years, we've had a lot of weather speculation. Is it going to snow? Is it going to be cold? Is it going to rain? And we'd do that this year, again (and by "we", I mean "I") except I'll be abroad. No, I'm not taking a vacation to Cabo, or something silly like that. I'm off to Norway. Quick aside: plane tickets to Norway in the winter are pretty cheap, as are hotels. Why would you go in the summer anyway? I'm going for ski orienteering world championships (yup, a real thing) to ski for a week (oh, and I'm going to have a chance to ski around Oslo as well), and won't have a ton of internet connectivity; I'm not sure how much. So I won't be on top of all the model runs, and hope there's lots of snow when I get back.
Right now? It looks pretty okay. The past few runs have shown cool and mostly dry weather heading towards Hayward, but hinted at a few inches of snow in the next week, and no warm ups in the near future. I'd take that.
Anyway, if anyone wants to take over Weather Speculation, let me know, and I'll give you the Elite Wave credentials to get in to the site. (Okay, it's a password.)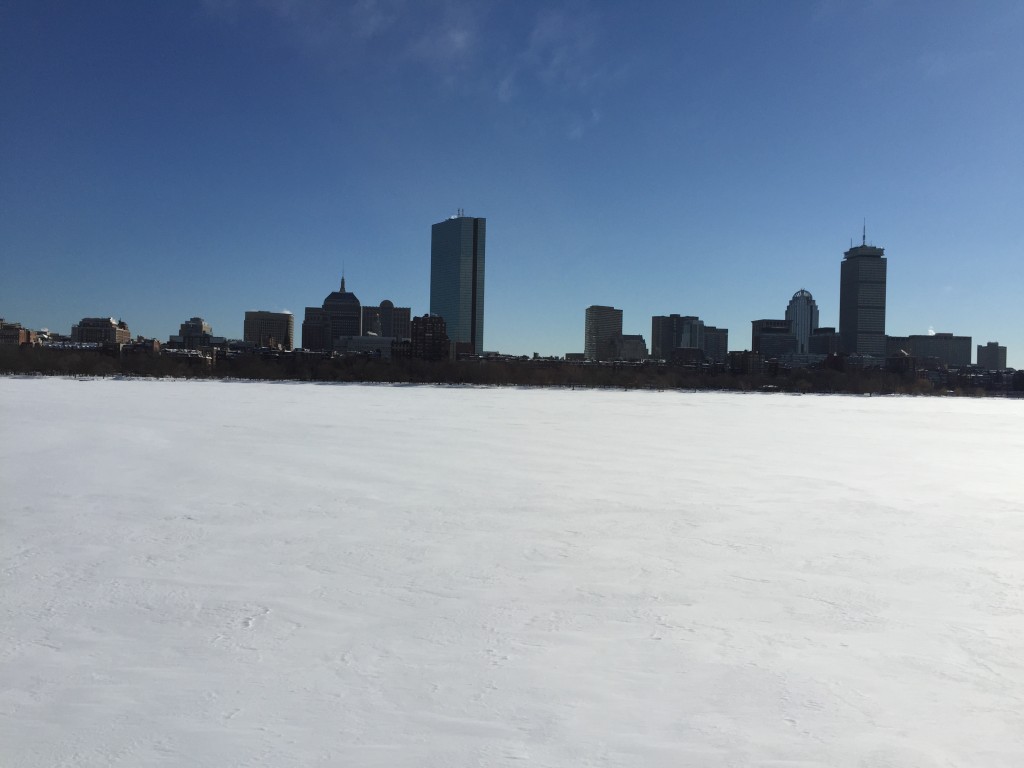 Of course, you know what else I'd take? 42″ of snow in a week. That's what we just got in Boston. The old record was 31. Everything ground to a halt for a couple of days, but the skiing is great, and the scenery along the river spectacular. I may or may not have run across the frozen, windblown Charles the other day. If it crusts over, the river crust skiing would be epic. So I'll try to send some karma the way of the Birkie. We don't really need much more snow here, but we'll take it.
Finally, a note on race reports. Several people have emailed me 2014 reports and I'll try to post them, but I'm leaving for Norway on Friday and barely have time. Looking ahead, I'd love your reports for 2015. I am going to try to set up a blogging template on WordPress so that you can create your own race report (and I can do as little as possible …) but doubt that's going to be in place. In lieu of that, a couple of guidelines to keep in mind (I'll repost this after the race, but keep these in mind):
Please send me text with as little formatting as possible. I have to get it Internet-ready, so a PDF with in-line photos really doesn't work. Sending the text in a plain word doc or the body of the email is best. I'm drawing the line this year. If I have to pull out carriage returns and such, I'm not posting it. Sorry.
I'll post photos, but please send them as separate attachments.
Proofread! Please proofread. I have to proofread, and if there are fifteen spelling mistakes on the first page I might give up.
Consult a style guide. Use em dashes (—) and elipses (…) not double hyphens (–) and treble periods (…). And single spaces after punctuation. I'm amazed that is still a thing.
Keep it clean, and not ad hominem. If you want to call out a person who didn't let you pass on a hill at 20k, don't mention their number or name, unless it's a buddy of yours.
There will probably be more. But keep 'em coming!
And see you soon in Hayward.